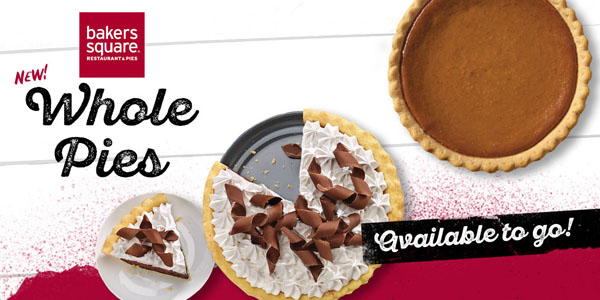 Say hello to our new friends! Every good barbeque needs a mouth-watering pie! Famous Dave's has partnered with Bakers Square to give you America's Favorite Pie with America's Favorite BBQ!
French Silk (3780 Cal) $15.99
Semi sweet chocolates blended into a fluffy, mousse-like filling in a flaky pastry crust. Topped with real whipped cream and shavings of milk chocolate, dusted with powdered sugar. Our #1 selling pie!
Lemon Supreme (3950 Cal) $15.99
A layer of our signature supreme cream cheese base consisting of blended cream cheese and whipped cream, topped with a tart lemon filling, made with a special baker's lemon puree. Real whipped cream border and rosettes.

Cherry Pie (3130 Cal) $13.99
Our award-winning sugared, double pastry crust, filled with tart Michigan red cherries, baked in natural fruit juices.
Harvest Pumpkin Pie (2760 Cal) $13.99
Real pumpkin blended with eggs, brown sugar, heavy cream and spices, baked in our traditional flaky pastry crust.
Southern Pecan Pie (3770 Cal) $15.99
America's original nut pie, made with baked brown sugar, butter-pecan filling, topped with a layer of the highest quality pecan halves.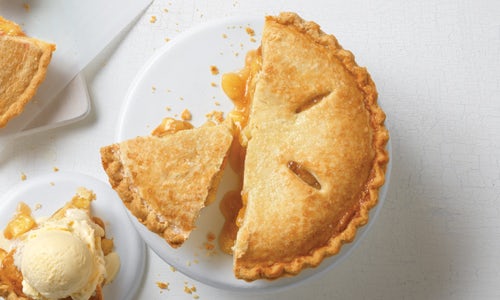 Country-Apple Pie (3260 Cal) $13.99
Sweet, crisp Michigan Northern Spy apples, seasoned to perfection with Saigon cinnamon and covered in our flaky, award-winning pastry crust.
Tax and gratuity not included. For more information visit Famous Dave's in Roseville, Novi, Taylor or Westland.