Local, Affordable Catering for Large and Small Parties in SE Michigan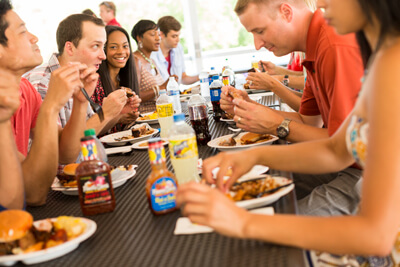 When reminiscing about a recent party, the first thing people remember is the food. Meals and snacks leave a lasting impression on guests, making your choice of catering one of the most important decisions you make. For Detroit area residents asking; "where can I find delicious party catering near me?", Famous Dave's is here to help you plan a great event. With brisket, ribs, and other delicious barbecue selections, we guarantee your party will be one to remember!
Enjoy Amazing Barbecue Brilliance for Indoor and Outdoor Events
With over a decade of experience serving the Detroit area, Famous Dave's has catered countless different occasions. We provide delicious food for events of all types, including:
Retirement Parties - Give your retiring employees the best kind of send-off: one with ribs, brisket, and roasted chicken! Famous Dave's is happy to work with retirement parties and all other business events and will tailor our food to the guest of honor's tastes and diet.
Holiday Parties - Whether you're celebrating the Fourth of July, Memorial Day, Labor Day, or even Thanksgiving, there's no better way to get guests excited than with the scent of slow-smoked barbecue. Famous Dave's accommodates holiday parties in all locations; whether you're holding it in your backyard, the park, or an indoor setting, we will have no trouble getting you your food on time and ready to serve.
Birthday Parties - What better way to celebrate another year of life than by filling up on pulled pork and brisket? You can hold the party at Famous Dave's or have us cater it at any other site.
Outdoor Parties - Not every party has to mark a special occasion. If you're just looking for an excuse to hang out in the park or show off your beautiful lawn, Famous Dave's catering has the BBQ food to make the event complete.
Whatever your reason for holding a party, great barbecue food is always a fun meal to share. Famous Dave's is committed to making all your events a success.
Famous Dave's Delivers on Quality, Service and Community Support
If you've settled on barbecue but are still searching for a caterer, look no further than Famous Dave's. We provide:
Top-Quality Meats - Famous Dave's offers a cornucopia of the best cuts of slow-smoked meats, sides, drinks, and desserts. Whether you're craving chicken, pining for pulled pork, or reminiscing on the taste of ribs, we have you covered.
Community Connections - Famous Dave's plays an active role in the community, participating in countless charitable events and fundraisers. When you order our food, you can be confident you're supporting a business that gives back.
Full Flexibility - Famous Dave's is flexible about service, offering 3 options to accommodate your event; pick-up, drop-off, delivery or delivery with service. We also provide accurate quotes on all our catering so you can know ahead of time whether it fits your budget.
For more information on our amazing bbq catering packages, call our Catering Hotline at (855) 783-8646 or Request a Quote today!