Have a Great Cause? Tell Us About It!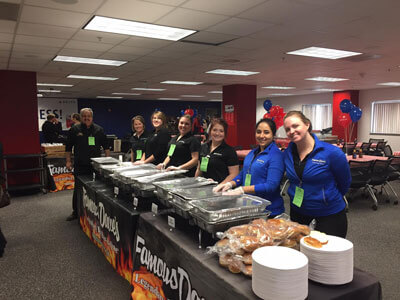 Famous Dave's is committed to supporting causes that contribute to the well-being of our community and environment. For any charitable donation requests simply use the online form below. This form should be sent to us at least 6 weeks prior to the event.
Please note: Not all of the requests will be granted a donation. We currently receive numerous donation requests from all over the metro Detroit area. We consider ourselves a good corporate citizen, who is willing to share our good fortune. As much as we would like to lend a hand, we can't help every cause.
---
Donation Request
Some of Our Sponsorships Include:
Make-A-Wish Foundation
Mott Children's Hospital
The Friendship Circle
Penrickton Center for the Blind
The Baldwin Center
The Judson Center
Cranbrook Schools
St. Jude Children's Research Hospital
Chippewa Valley Education Foundation
Clinton-Macomb Public Library
Southgate Community Players
Liberty Family Outreach
CARE of Southeastern Michigan
Gleaners Food Bank
One Sheep Ministry
Charles Tillman Cornerstone Foundation
Plus, local schools and organizations