Reliable, Top-Quality Corporate Catering in SE Michigan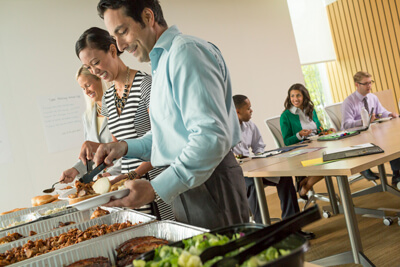 Never underestimate the value of good catering for your company event. Offering great food is one of the best ways to spur employee engagement, convince people to attend, and make the event memorable. As the Detroit area's leading local Pitmaster, Famous Dave's offers delicious, authentic barbecue for business lunches and office parties. If you're wondering "where can I find quality corporate catering near me?", look no further than Famous Dave's.
Southeast Michigan's Most Skilled Pitmaster
Famous Dave's is one of Metro Detroit's most renowned barbecue restaurants. We serve a wide selection of delicious options, including:
Barbecue Classics - Drawing our inspiration from Georgia, Texas, and other classic centers of American barbecue, we offer pulled pork and chicken, beef brisket, hot link sausage, country roasted chicken, and an array of other main dishes.
Succulent Ribs - Our cooks specialize in slow-smoking both St. Louis-style Spareribs and Baby Back Ribs.
Scratch-Made Sides and Homemade Desserts- Southern comfort foods, just like mom used to make! From our creamy mac 'n cheese to our famous Down Home Banana Pudding, we have the flavors that your guests are sure to love.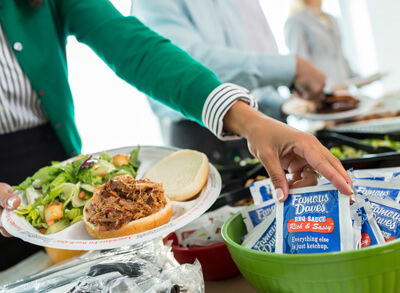 Over the years, Famous Dave's has earned widespread praise and recognition throughout the Detroit area for amazing barbecue. We have won "Vote 4 the Best's Best Barbecue" award consistently from 2006 to 2017, as well as the 2013 "Dougfest Best Ribs" award, the 2015 "Best Cuisine" award from the Chippewa Valley Educational Foundation Tastefest, and the 2015 "Clinton Macomb Public Library Best Vendor" award. Since our beginnings, Famous Dave's has won more than 700 awards nationwide. With a track record like this, we can guarantee good food for any office party.
Make Your Corporate Event Memorable with Slow-Smoked, Fresh Made Barbecue
When catering a corporate event, barbecue has no shortage of benefits. In addition to the great taste, it can:
Cultivate Closeness - Barbecue is more than food; it's a communal experience! By breaking into a set of ribs or cutting up a roasted chicken together, you, your employees, and your clients have a unique opportunity to grow closer. There is no better way to solidify your business relationships.
Connect the Community - Besides linking you with the other people attending your event, our services also allow you to strengthen your bonds with the rest of local society. Through catering, charitable giving, and daily restaurant service, Famous Dave's maintains close relationships with people throughout the Detroit area. By working with us, you join the Famous Dave's network, allowing your business to become a more complete part of the community.
Deal with All Diets - Famous Dave's tailors its barbecue to customers' dietary needs. We have chicken for those who don't eat pork; salad, salmon and veggie burgers for those who don't eat meat, and countless other options to accommodate everyone at your party.
Don't plan a party without great food. For more information on our corporate catering in Detroit and all over SE Michigan, call our Catering Hotline at (855) 783-8646 or Request a Quote today!