Ribs & Romance: SE Michigan Wedding Catering from Famous Dave's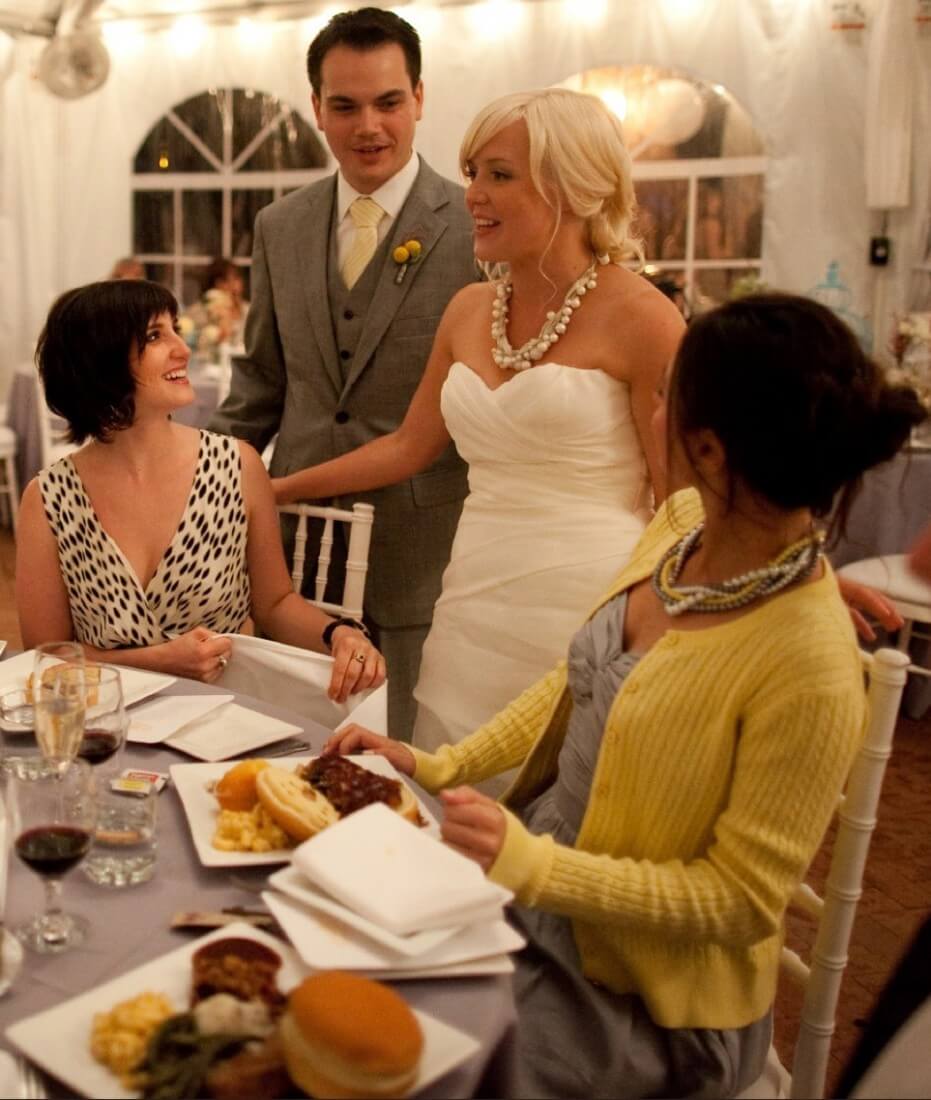 On the day you and your loved one tie the knot, the last thing you want to deal with is hunger. After getting ready in the morning, traveling to the ceremony, and waiting for you to say "I do," your friends and family will have gone half the day without much chance to eat. The least you can do is reward them, and yourselves, with a full feast at the reception! There are thus few questions more important than "where can I find quality wedding catering near me?" Famous Dave's offers delicious barbecue for weddings throughout the Detroit area, giving you and your guests a well-earned reward after a happy but exhausting day:
Ribs, Chicken & Brisket for Weddings of All Types
With more than a decade of experience catering weddings and other key life events in Metro Detroit and the surrounding areas, Famous Dave's understands that no two ceremonies are alike. We are thus, happy to tailor our services to your wedding's specific theme, venue, and guests. We've catered these types of weddings and more:
Western Weddings - Whether you're incorporating a few Western elements or making the entire event a Wild West recreation, Famous Dave's is here to help. With our catering, your guests won't know whether the ceremony is in Michigan or Texas.
Barn Weddings - If you're seeking a country aesthetic for your wedding, a barn is a choice location for the ceremony and reception. Why not complement that venue with a traditional barbecue meal and scratch-made sides?
Outdoor Weddings - From the beach to the park to your own backyard, the outdoors offers countless great spots for wedding ceremonies and receptions. Famous Dave's can provide full catering in any of these locations, complete with the equipment to keep your food safe from weather, animals, and any other outdoor threats. We can even serve from our food truck.
Casual Weddings - Say you want to have your wedding at home or in another casual location. Famous Dave's provides the same care and attention to detail for these ceremonies as we do for the most elaborate weddings.
Your wedding should reflect what you want most as a couple. Famous Dave's pays close attention to all your plans and desires, providing the food and equipment to make them a reality.
Food to Fill Even the Most Famished
Wedding Guests
Famous Dave's is committed to ensuring that everyone at your special event can eat their fill. Not only do we cater in every location, but we provide a broad selection of delicious homemade foods. From pulled pork sandwiches to roasted chicken to slow-smoked BBQ ribs in both Baby Back and St. Louis style, we give you no shortage of options to satisfy all of your guests. We also provide precise quotes ahead of time, making it easy to choose a meal that meets your budget.
Serve Your Wedding Guests
Award-Winning Barbecue
Famous Dave's has earned the praise and admiration of families throughout the Detroit area, but don't take our word for it. Among the distinctions we have won are, the 2013 "Best Ribs award" from the 93.1 FM Dougfest, the 2013 "Best Cuisine" award from the Chippewa Valley Educational Foundation Taste-fest, the 2015 "Taste of the Town" distinction from the Clinton-Macomb Public Library, and Vote 4 "The Best's Best BBQ" award for eleven years running. Since our beginnings, Famous Dave's has won more than 700 awards nationwide. With a record like this, we are sure to provide catering that keeps you and your guests fully satisfied.
Don't plan your wedding reception without great food. For more information on our wedding catering in Detroit and all over SE Michigan, call our Catering Hotline at (855) 783-8646 or Request a Quote today!