Best Barbecue Food To Go Near Novi MI
Searching For The Leading Barbecue Food To Go in the Novi Area?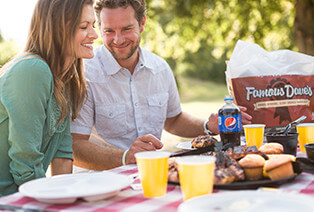 Why cook when you could avail yourself of an affordable, delicious barbecue option instead? Our takeout meals are perfect for movie night, Sunday dinner with the grandparents, a picnic in the park or tonight's meal for a surprise camping trip. Whether you're having a spur of the moment treat or have planned a special night off for a while, Famous Dave's is the right choice. Don't wait to grab a pile of our famous slow-cooked meats and sides from scratch today.
Forget the cooking tonight! Bring home Famous Dave's award-winning BBQ that is sure to please even your pickiest eaters. Enjoy our mouth-watering St. Louis-style ribs, country roasted chicken, and Texas beef brisket - just to name a few of our classics. Or, carry out our All-American BBQ Feast®. It's packed with Detroit's favorite barbecued meats and scratch-made sides.
View/Download Full Take-Out Menu

---
Barbecue Food To Go Options With Famous Dave's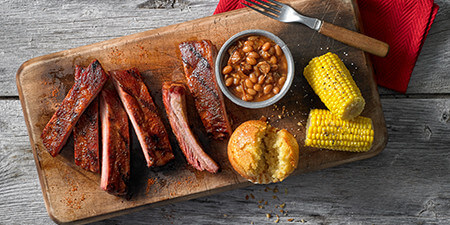 Appetizers - We give you the full southern experience with our full range of delicious appetizers, including burnt ends, wings, catfish fingers, rip tips, nachos, onion strings, smoked salmon and more.
Soups and Salads - The lighter side of BBQ comes to the fore with soups and salads, healthifying (yep, it's a word) any meal or standing just fine on their own. Most options can be incorporated into our meal options, so you get the best of both worlds.
Ribs - If you're going to go for one thing, go for our famous, award-winning ribs. Smoked low and slow for 3 to 4 hours, then finished on the grill for the perfectly flavored crust, you won't be able to resist every last bone-sucking bite. Dip or drown them in sauce, or just enjoy them on their own.
Other BBQ Options - These include roast chicken, hot links, pulled pork, pulled chicken and brisket.
Burgers and Sandwiches - You'll love the heck out of our perfectly cooked and compiled burgers or sammies. Enough said.
Sides - Our huge range of sides runs the gamut from one end of southern cooking to another, including cornbread, potato salad, coleslaw, baked beans, mashed potatoes, green beans and so much more. Mix and match to create your ideal repast.
Dessert - Who could forget the most important food group? From bread pudding to hot fudge brownies, we're pretty sure you'll find what you're looking for.
---
Family Friendly Options for Novi Homes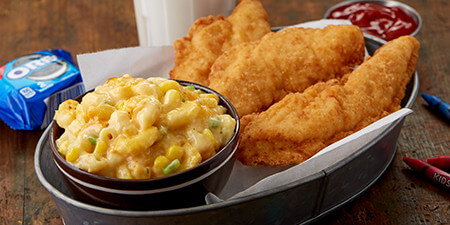 We also offer family meals that will accommodate a crowd, including our Famous Feasts -- a combination of meats and sides that make meals for 2 to 6 people -- or the Family to Go option. Whether you want to feed your little group for lunch, dinner or somewhere in between, you'll find a fully outfitted spread here.
Alternatively, you can take advantage of the Lil' Wilbur meals, which are smaller portions of our same entrees and side dishes. We also offer more traditional kiddie-friendly foods, including corn dogs and chicken tenders.
---
The Barbecue Food To Go You've Been Looking For.
Our award-winning BBQ restaurant and catering company is famous in Detroit for a reason. It's not just that we're finger-licking good from the start of the meal to the last bite of dessert, or because we make weeknights easy. It's also because Famous Dave's genuinely cares. About your health, offering lighter accompaniments to our BBQ fare. About the community, giving to charity and performing service. And about the local economy, creating jobs while simultaneously giving you the chance to enjoy a home-cooked meal for less time and less money than you thought possible. Get a delicious meal to go today!
---
Take Our Sauce Home With You!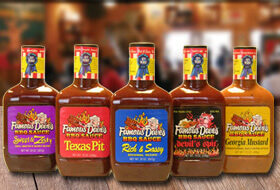 Rich & Sassy® mild
Buffalo


Pineapple Rage®



Devil's Spit®



Wilbur's Revenge®




---
Take Home Famous Dave's tonight! Our barbecue take out is perfect for any event - from a lazy night in to hosting dinner parties. We look forward to seeing you at one of our locations near Novi
Find Great BBQ Near You