Local, Affordable Catering for Graduation Parties in SE Michigan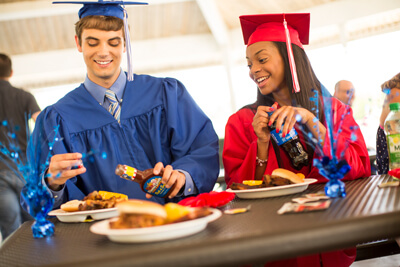 Graduation is more than a celebration of success; it's also a first step into your daughter or son's bright future! Thus, whether your child is finishing high school, college, graduate school or any other education program, there's no better time to hold a party in their honor. No party is complete, however, without good food, so you'll no doubt be asking "where can I find affordable graduation catering near me?" With award-winning barbecue and extensive experience catering Detroit area events of all sizes, Famous Dave's offers a delicious selection of barbecue for your child's big day. With our help, you can plan a party to remember and set your daughter or son on the path to success.
Good Food & Excellent Catering Service for Your Graduate's Big Day
As one of the Detroit area's most widely recognized barbecue restaurants, Famous Dave's offers the skill and attention to detail you need for a memorable party. We are perfectly positioned to cater your event thanks to our:
Extensive Experience - Famous Dave's has years of experience serving high school graduation parties, college graduation events, and countless other educational celebrations. No matter what your child is graduating from, we will have no trouble making it a great event.
Indoor/Outdoor Catering - Famous Dave's works with any venue, and can easily transition from the outside to the inside or vice versa. This is ideal if you want to host a party in an outdoor location but need to be prepared for rain or other inclement weather.
The Full Range of Food - Famous Dave's provides premium barbecue in all its forms. From classic pulled pork to hot links to country roasted chicken to both St. Louis and baby back ribs, we are prepared to meet any tastes and dietary needs. We even offer vegetarian options. Both your graduate and all your guests will be fully satisfied with our offerings.
Service Selection - Famous Dave's offers flexible service options for your catering. Whether you want to pick the food up yourself, have us deliver it, or let us set up and serve the entire buffet, we are happy to do it. We can even serve your guests from our food truck!
Famous Dave's has earned the praise and admiration of families throughout the Detroit area, but don't take our word for it. Among the distinctions we have won are the 2013 "Best Ribs award" from the 93.1 FM Dougfest, the 2013 "Best Cuisine" award from the Chippewa Valley Educational Foundation Taste-fest, the 2015 "Taste of the Town" distinction from the Clinton-Macomb Public Library, and Vote 4 "The Best's Best BBQ" award for eleven years running. Since our beginnings, Famous Dave's has won more than 700 awards nationwide. With a record like this, we are sure to provide catering that keeps you and your guests fully satisfied.
Your child has accomplished great things by graduating; why not give them a party that is equally great? For more information on our graduation catering in metro Detroit and all over SE Michigan, call our Catering Hotline at (855) 783-8646 or Request a Quote today!