We Have The Best BBQ Ribs Throughout Sterling Heights MI
Why Come to Famous Dave's for the Best BBQ Ribs in Sterling Heights?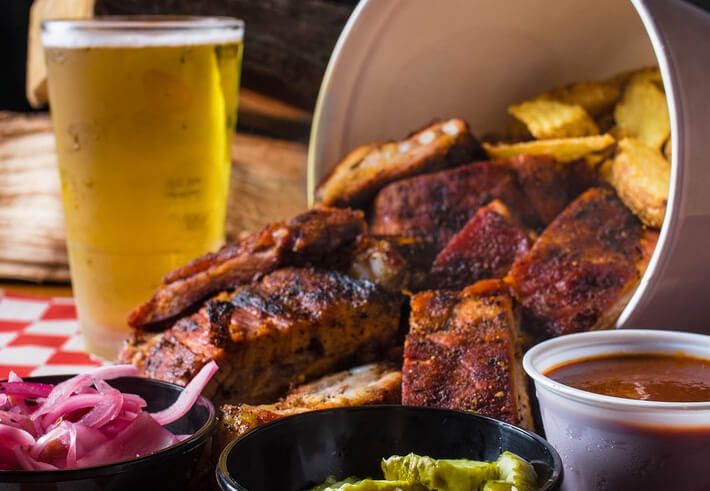 Having the "best BBQ ribs" is a claim a lot of restaurants will make. Heck, every granddaddy in the south can say the same thing, and we're betting they've all got some pretty great recipes to show for it, too. But when it comes to the actual best, the proof is in the pudding, as they say. Not Famous Dave's renowned bread pudding, specifically, since we're talking about ribs ... but you see what we mean.
Seriously, though, we've created and maintained a top-tier reputation for our meats and the various styles of which they're prepared - low and slow cooked ribs, brisket, pulled chicken & more, and much more. As of now we've won more than 700 awards around the country, putting us in first place when it comes to giving the people what they want - the Best BBQ Ribs
---
The Proof Is in the (Not-Bread) Pudding

With hundreds of national awards already under its belt, Famous Dave's opened on April 28, 2003 in Westland, MI. Barbecue aficionados and local families waited hours for a chance to pig out on the best darn BBQ ever! Seven months later, the Famous Dave's in Roseville opened its doors. They smoked hundreds of slabs a day to keep up with the demand for Metro Detroit's best barbecue. In 2005, the Famous Dave's in Taylor made its debut followed by Famous Dave's in Novi. Collectively, the four restaurants have become known as Famous Dave's Detroit and have spent over a decade preparing Metro Detroit's best barbecue.
Ten Restaurant of the Year and three Franchisee of the Year awards later, Blue Ribbon Restaurants is one of the most awarded franchisees in Famous Dave's history. But even more beloved than our company awards are the awards we win within our communities. These come from the heart and soul of our Famous Fans. Without them, we wouldn't be Detroit's Best BBQ (ClickonDetroit.com 4TheBest 2006-2016). The love of our surrounding communities has allowed our flame to endure for more than 14 years. Today, Blue Ribbon Restaurants owns and operates ten Famous Dave's throughout Michigan, Ohio and Illinois. Our mission: Be Famous. Be Real. Kick Butt. Have Fun.
---
Don't Wait To Try Famous Dave's Critically-Acclaimed Ribs
If you're ready to try the world's best ribs, come on in today. You can sit down and dine in our restaurant or carry out lunch to go. If you have a corporate event or wedding coming up, we'd be delighted to help you out there as well. Our many side dishes and desserts complement our ribs perfectly, creating the true southern dining experience. Feel free to give us a call today, or just spend some time clicking around our site. We don't promise it won't make you hungry, though.
---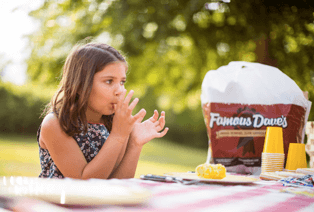 To Go
In a hurry? No problem! Famous Dave's offers curbside service at all of our Detroit locations. We make it easy to take our homemade sides, desserts, and slow-smoked and grilled meats to a party, a picnic, a sporting event or just a relaxing night in.
---
Stop in today and see what the buzz is about with the Best BBQ Ribs throughout Sterling Heights!
Famous Dave's Locations