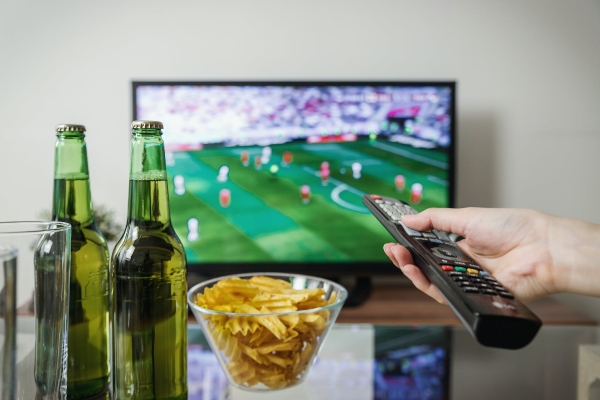 In 2021, over 91 million people watched Super Bowl LV, making the game one of the most-watched shows of last year. Now that Super Bowl LVI is just a month away, it is time to start planning a memorable Superbowl party - and you certainly are not going to be the only one. Last year, because of the Covid-19 restrictions in place, only 13% of people were planning to throw a party, while over 72% opted for a safer option.
If you are looking for the best catering food for Superbowl parties, Famous Dave's can help - here's what to expect!
We Offer a Superbowl Party-Friendly Catering Menu
You might have experience in throwing birthday celebrations and corporate parties - but Superbowl gatherings are an entirely different matter! There are several aspects to keep in mind when looking for the perfect BBQ catering services for your Superbowl party. Here at Famous Dave's, we love watching the game as much as you do - and we know what the perfect food for the event is!
We Promise Finger-Licking Dishes and Plenty of Snacks
If you love to stop at Famous Dave's before or after a game, you might already know what to expect. But a Superbowl party is slightly different! Playing time can run for longer than four hours - and this is without accounting for breaks and the famous halftime show! According to FoxSports, your party should start at least 90 minutes before kickoff!
So, your party can turn into an all-day event - which you can't enjoy without plenty of finger food, small bites, snacks, and dips. Our catering team knows how to plan an event and will take care of keeping snacks and finger-licking dishes coming.
We Can Cater to Any Dietary Requirements
Organizing Superbowl parties for large groups can be challenging, especially because dietary requirements can be common, complex, and difficult to meet if you are not an expert caterer. Indeed, one or more of your guests might require a plant-based menu, halal ingredients, kosher foods, or gluten-free and dairy-free cuisine.
Here at Famous Dave's, we understand the importance of dealing with personal needs with empathy and accuracy. No matter what your guests require, our staff is fully trained, and our menu is packed with alternative options. If you cannot find the right alternative for your needs, we'll be happy to create a custom option for you.
We Uphold the Strictest Safety Measures
While Covid-19 measures are slowly being lifted across the world, your guests might still be dealing with the fear of contagion. Here at Famous Dave's, we believe that it is paramount for you and your guests to feel safe and secure throughout your event.
That is why our managers, caterers, and team members are trained to the highest standards to uphold the strictest safety measures - without affecting the party's atmosphere!
We Take Care of Everything – You Can Enjoy the Show!
From finding enough space for a buffet to setting up the different dishes and keeping the snacks coming during the game, Famous Dave's can help you run the event from start to end. So, your guests can enjoy delicious food, you can make the most of this social event, and you can all focus on the Superbowl match without stressing about drinks, food, and dietary requirements! Give our closest location a call today to handle your Superbowl catering needs.