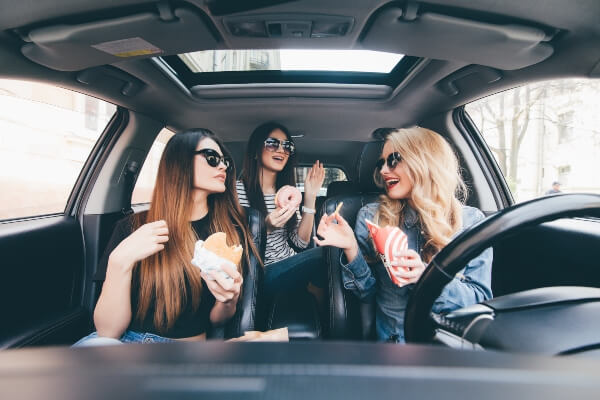 Spring is here and with the warmer weather and longer days come road trips.
Now is a great time to hit the road and see the sights (and sites) all-around your state and beyond. Though getting together in large groups is still unsafe, a trip in the car with the family or close friends is a nice way to break out of your routine, shake things up, and have some fun along the way. Keep the trip a happy one with the right food. Keep reading to get our tips on what food to go you should bring on your road trip. We've made it simple by focusing on breakfast, lunch/dinner, snacks, and utensils.
1. Breakfast for Your Day Trip
There is no need to skip the most important meal of the day while you are on a trip. Try out some of the following for your family's morning meal:
Hard-Boiled Eggs - Keep it simple with eggs. When you boil these ahead of time, you can just pull 'em out when you are ready to snack. Make sure to keep them cold.
Yogurt - Another easy food to grab and go. Take it to the next level by adding fruit.
Bagels and a Spread - Bagels are a nice and easy breakfast snack to start light but get you going. Add cream cheese, jelly, or your favorite spread.
Donuts or Danishes - Or start your day the sweet way with a little treat!
2. Snacks Throughout the Day
All throughout the day, your family may want something to snack on. Make sure no one is uncomfortable by having some of the following packed into your car:
Trail Mix or Nuts - Trail mix is designed to keep hikers going while on the trail. Buy or create your personal mix of nuts, dried fruit, chocolates, and more.
Salty Snacks - Why are salty snacks so good? Choose from popcorn, chips, pretzels, and more.
Fresh Fruit - Fruit makes for a nice grab-and-go snack. Go with the whole fruit, only cutting it if you will eat it pretty soon (maybe only cut the fruit if you have young kids).
3. Lunch and Dinner on the Road
A warm-up to the day or snacks are good, but don't forget about the bigger meals of lunch and dinner. Below are some options sure to keep everyone happy:
Fried or BBQ Chicken - These both always make for good picnic foods. Save yourself the hassle of cooking while planning your trip by picking up BBQ tasty food from Famous Dave's.
Hot Dogs - Fresh hot dogs are great hand-held food for your trip. Throw some hot dogs and boiling water into a thermos and they will be good to go when you are ready to eat.
Baked Beans - Baked beans make for a good side, especially if you will make a stop to eat! Bring your extra thermos to store and keep your baked beans warm.
Sandwiches - These are always a good choice for your picky eaters. Fill the sandwiches with anything your family likes from peanut butter and jelly to BLTs.
4. Beyond Food: Food-Related Items You Will Need on the Trip
Some food is almost inedible without the right utensils. Don't forget the following for your trip:
Paper plates
Paper towels
Thermos(es)
Plasticware (reusable if you can)
Wet wipes
Garbage bag
Tupperware
Choose Famous Dave's Carryout to Make Your Day Trip a Success
Having enough food along for the ride will help keep your hungry riders happy on your day trip. Make sure to pack the snacks you will need to fill in the gaps and utensils to eat it all (while staying clean). Keep your trip simple by choosing Famous Dave's carryout BBQ for your big meal. Our savory entrees and fitting sides will be sure to be a big hit on your trip. Check out our menu below and stop in today.