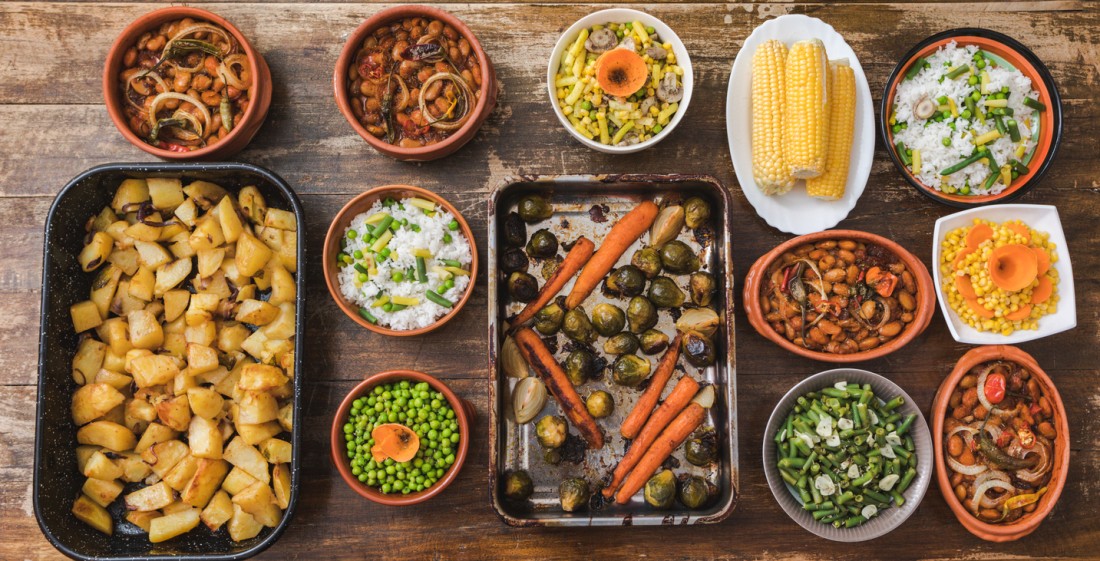 No BBQ is complete without the proper side dish. Whether you're looking to host a large backyard event or just sitting down with close friends and family, it's important to have options for everyone.
If you're stumped on what to pair with your BBQ ribs, wings, and burgers, take a look at our go-to guide to comfort side dishes. We've compiled a list of some of our favorite foods—perfect for any summer get-together.
Sweet BBQ Baked Beans
What better to go with BBQ, than more BBQ? For this recipe you'll need -
2 rashers of bacon

1 sweet onion

1 bell pepper

2 cloves of garlic

1/2 teaspoon chipotle/chili powder

1 tbsp of smoked paprika

2 tablespoons each of apple cider vinegar, BBQ sauce and ketchup

1 tablespoon each of Dijon mustard and brown sugar

2 cans of baked beans

Salt and pepper to taste
Heat a skillet over a medium-low heat and cook the bacon until the fat is nice and rendered. Stir in the onion, pepper, and garlic, and cook until softened. After you've done this, add the chili powder, salt, pepper, and the rest of the dry ingredients. Cook for a few minutes, then add the brown sugar, mustard, BBQ sauce and vinegar. Stir in the beans, right from the can and then heat through. When it's hot, put it in the oven for around half an hour until nice and syrupy. Serve and enjoy.
Red Cabbage Coleslaw
The first thing that comes to mind when you mention BBQ is coleslaw. The staple of all side dishes can be made many different ways, but here's a crowd pleaser sure to have everyone coming back for seconds. You'll need -
250g mayonnaise

1 lemon, zested and juiced

2 tablespoons each of cider vinegar and wholegrain mustard

1 teaspoon of celery salt

¼ head of white cabbage thinly sliced

¼ head of red cabbage thinly sliced

2 carrots, sliced thinly

1 diced red onion

2 sticks of celery, thinly sliced
Whisk the mayonnaise, lemon zest, vinegar, mustard, and juice together with the celery salt. Season it generously, and then add your vegetables. Refrigerate until you're ready to serve and enjoy.
Other Side Dish Options
Light-hearted side dishes pair well with heavy meals such as ribs and brisket, but for those BBQ days where you're looking for the best of both worlds, consider some heavier options. These can include sweet potato wedges, corn on the cob, cheese dip, and mac n' cheese.
Corn on the Cob
What is known as both a side dish or a meal, corn on the cob can be prepared in so many ways. Boiled, grilled, or shucked into a salad, corn is one of the easiest and most pleasing dishes to pass. Whether you smother it in butter, garlic salt, cayenne pepper, or all of the above, you'll surely have a mouth watering treat for all to eat.
Sweet Potato Wedges
Sweet potatoes are among the healthier of potatoes and serving them as wedges make for the perfect finger food. Simply cube it, season as desired, and roast it in the oven for 45 minutes—voila, dig in.
Cheese Dip
Paired beautifully with BBQ wings, blue cheese dip can be both a dip or an added sauce for those crispy wings. Melt your favorite cheeses—we suggest cheddar, mozzarella, and gouda—and mix with sour cream and mayonnaise. Stir until you have a thick consistency and add a bit of lemon zest for a slight after-bite zing.
Mac n' Cheese
You can't go wrong with this American staple. Whether you use boxed mac n' cheese or make your own, everyone will likely be coming back for more. To add a little extra personality to this already popular dish, once the noodles have cooked and the cheese has been added, place it into a baking tray and top with extra cheese and breadcrumbs. Bake for 15 to 20 minutes, or until the breadcrumbs are golden brown, and serve.
There are many BBQ side dishes out there to choose from and various recipes on how to perfect them. Whichever way you choose to serve these staple items, the simplicity of each recipe will help you prepare the ultimate feast for you and the family. Want to take your meal to the next level, order Famous Dave's BBQ to not only satisfy your tastebuds, but make meal time that much more enjoyable.