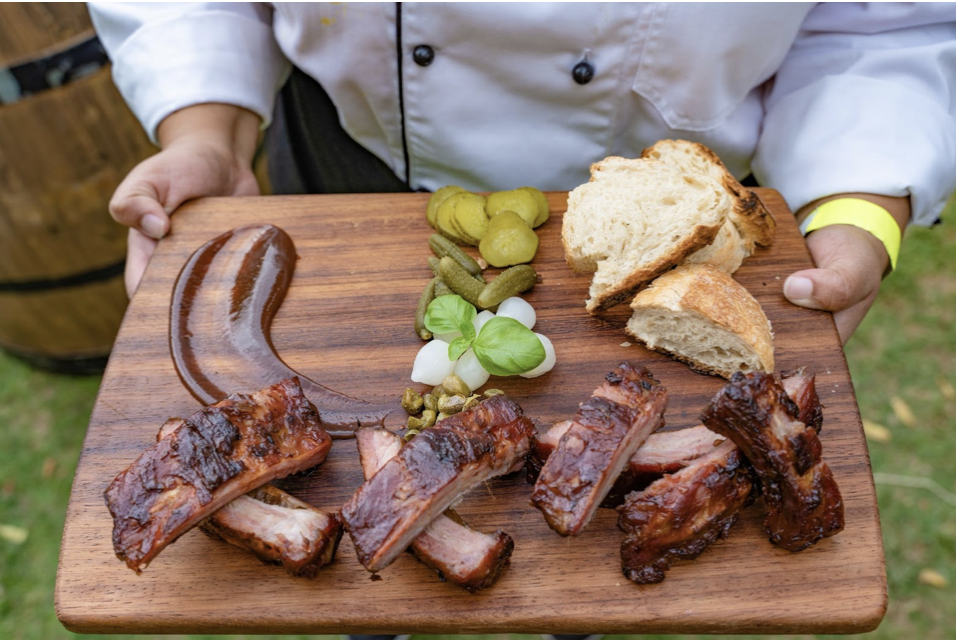 St. Patrick's Day is a celebration full of history and traditions. Dating back to the 9th century, the Roman Catholic feast day of St. Patrick is still observed by the people of Ireland every year on the 17th of March. But did you know the first St. Patrick's parade was held in America in 1601 by the local Irish community in what is today St. Augustine, Florida?
Now that this special day of the year is just around the corner, it is time to help celebrate the values, traditions, and meaning of this day. And what is a better way of doing so than hosting a St. Patrick's Day BBQ party? Discover some of the best catering food for St. Patrick's Day parties to honor the Irish heritage in this guide by Famous Dave's!
Irish Potato Salad
Alongside grains and dairy products, potatoes are one of the staples of Irish cuisine. Of course, this ingredient is one of the most versatile, and no matter whether you prepare potato wedges, fries, mashed or roasted potatoes, you can be sure that your guests will love the dish.
In particular, the Irish potato salad is quick, easy, delicious—and perfect to accompany any of your St. Patrick's Day BBQ recipes. All you need for this traditional dish is potatoes, hard-boiled eggs, mayonnaise, sweet onions, and a dash of white wine vinegar. But you can also customize the recipe to your preferences by adding bacon or even apples!
Grilled Flank Steaks
Flank steaks are meat cuts deriving from the cow's flank. Compared to skirts, flanks are much leaner and perfect for a marinated recipe. Unsure about how to marinate your flank steaks for the most delicious flavor? We think you're going to love what we have in mind…
Traditionally, this meat cut is marinated in a stout beer, such as Guinness, and is cooked on high heat to preserve the mouthwatering texture. While you might need to plan in advance for this recipe, it will only take you around 20 minutes to cook the flank steaks to perfection.
Rib-Eye Steak With Guinness BBQ Sauce
Rib-eye steaks are a must for all BBQs. But if you thought that they might not be Irish enough for your upcoming St. Patrick's Day BBQ party, think again! All you need to do is cook them like you know best and top them with a rich, hearty Guinness sauce.
All you need for this sauce is garlic, onion, and chili powder, to be combined with 1 ½ cups Guinness and tomato sauce. Add a pinch of salt, paprika, and sugar, and a dash of Worcestershire sauce. Then, let it all simmer until it takes the tender texture and flavor you desire.
Potato Skins
You might have always thought of potato skins as just a way to repurpose potato scraps. But Irish cuisine has ways to better value this delicious part of the potato! All you need to do is carve out each potato and bake them with your favorite toppings.
From bacon to sour cream, cheddar cheese, and green onions, the list of toppings to complete your potato skin recipe is nearly endless. And, depending on your choices, they might be the perfect alternative for your vegetarian guests!
Corned Beef Burgers or Sliders
The history of corned beef goes back to the 17th century, making this type of meat a staple for Irish communities around the world. So, if you have seen your local store putting corned beef on sale just before St. Patrick's Day, you should definitely secure an order for your upcoming BBQ.
There are so many ways to prepare and serve corned beef. You can enjoy it with cabbage and potatoes in slider form or in a full-sized burger with a fried egg and chips (that's what the Irish call fries, you know!).
Plan a Stress-Free St. Patrick's BBQ Party With Famous Dave's
There are endless St. Patrick's Day BBQ catering recipes that you could try this year. But if you are looking to throw the perfect and stress-free party, make sure to partner with an expert BBQ caterer at Famous Dave's.
From looking after your guests with dairy requirements to upholding the great theme and values of St. Patrick's Day, letting an expert caterer take care of your party can help you make the most of this special day. Give your closest location a call today to handle your St. Patrick's Day catering needs. Sláinte!