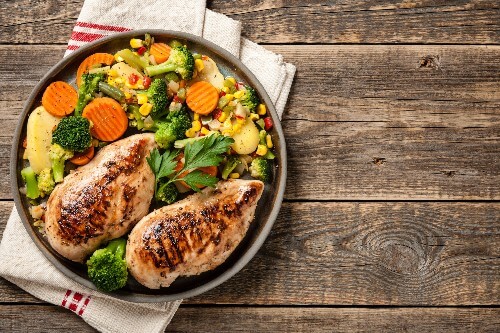 Grilling is a great time, both for cooking and enjoying the grilled food. If you need to relax and have a good time with friends or family, grilling is a great idea. When you plan on having a grilled meal, most people think of comfort foods that make you feel good but might be rough on your midline. There are steps you can take to make sure your next grilling considers healthy choices. Keep reading to learn Famous Dave's suggestions for healthy grilling ideas.
Buy Lean Cuts of Meat
Cheeseburgers and hot dogs are tasty grilling regulars, but you have other options. Consider chicken or fish as both of these options tend to have less fat and more nutrients you need. If you just need a burger, check out the packages that offer lower fat content (such as a 93/7 marking, meaning 7% fat).
Grilling Up the Veggies on the Side
The more veggies you eat, the more balanced your diet will become. Try adding veggies such as corn, peppers, onions, tomatoes, or zucchinis to your grill. Try chopping some of these up and making a vegetarian kabob.
Get Creative with Other Healthy Alternatives
There are so many more grilling options beyond red meat. Play around and get creative with some meals that you like cooking inside - try them on the grill. For instance, have you tried cooking a pizza on the grill? Check out the internet for some more inspiration.
Choose Gas Instead of Charcoal
Healthy grilling ideas go beyond the food you cook. Many doctors agree that cooking meats on a charcoal grill can expose you to cancer-causing molecules. Once the fat drips into the charcoal flames, the compounds combine with the smoke that then attaches to your meat. You can reduce the risks by trimming off as much fat as you can from your meats and using a gas grill.
Take the Time to Marinate Your Meats
Marinated meats just taste better. There is so much more flavor in food soaking in amazing BBQ sauces or even getting a spicy dry rub. Good news - marinating can make grilling healthier. Marinating meats can help prevent harmful chemicals from attaching to your food. Think of it like adding a protective coat that tastes great!
The Right Spot for Healthy Grilling Options
Take the advice above and have fun. Making a few small changes can make all the difference. If you miss eating grilled food this winter, stop by your local Famous Dave's. We have quality meats cooked to perfection by experienced chefs that follow our tested traditions. Our signature sauces and dry rubs will add the flavor you love to round out your dining.
Check out your local Famous Dave's to enjoy tasty options today!