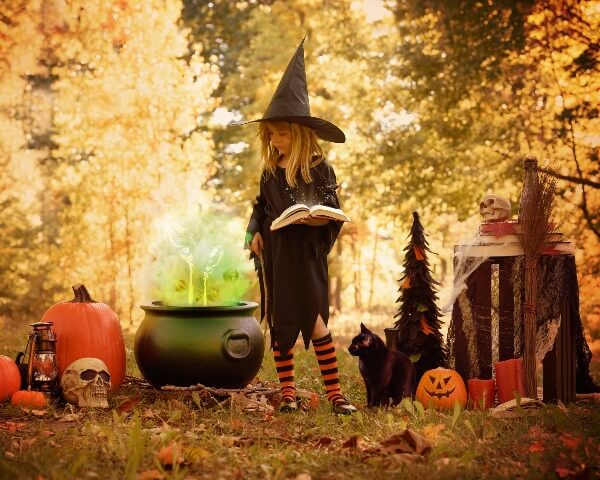 The leaves have begun to change and the days are starting to end earlier. You know what that means, right?
It is getting spookier out there!
Halloween draws closer, along with all the fun and excitement that go with it. The 2020 Halloween will need to look different than any other year in living memory to keep you and your family safe. You will need to find alternatives to trick or treating this year. Instead, consider throwing a small Halloween party. For the safest approach, consider hosting an outdoor gathering with catered food so you won't need to have too many people going inside.
This article is all about what you need to consider when planning your outdoor Halloween party this season.
1. Keep Your Guests Warm and Dry
First, you will need to make sure your guests are warm and dry. Plan for a day that is sunny, even if it is a bit cool. Make sure to have extra, recently washed blankets and jackets ready for anyone who forgets theirs. Handwarmers are also a good idea. Schedule the event for the middle of the day so you can take advantage of the sun for as long as you can.
2. Make a Craft Area
Have a family-friendly event by including different stations with various activities. One station could be a craft area. You may even split this up so different crafts are at different stations. You could have a painting station, a gluing station, and a drawing station. For another station you could...
3. Include a Pumpkin Carving Activity
Carving pumpkins is a chance for everyone to have some fun. Kids and adults love to put their spin on a pumpkin design. Keep it low-key with markers, or go all out and bring out the tools, knives, and stencils. Make sure to have an adult leading the group and maybe helping each child so no one gets cut.
4. Have a Costume Contest
Who doesn't like to win? Make your party a costume party to get everyone involved in the Halloween spirit. Having people dress up tends to build excitement for the event as well. On the day of the event, have people show off what they are wearing and then vote on a winner. So no one feels too bad, consider having different categories of prizes.
5. Share Ghost Stories Around the Bonfire
Have a bonfire to keep everyone warm when the sky begins to darken. This is also a good time to tell some ghost stories. What could be a spookier setting then a firelit backyard with the light only going so far?!
Make Eating Easy with BBQ Catering
There is so much to focus on for an outdoor Halloween party, especially with the social distancing guidelines. Keep your mind on having fun with your guests while you let the pros at Famous Dave's worry about the food. Our catering crews will take extra care to make sure your savory BBQ food is warm enough to keep your guests warm and coming back for seconds! Give us a call to plan your event.