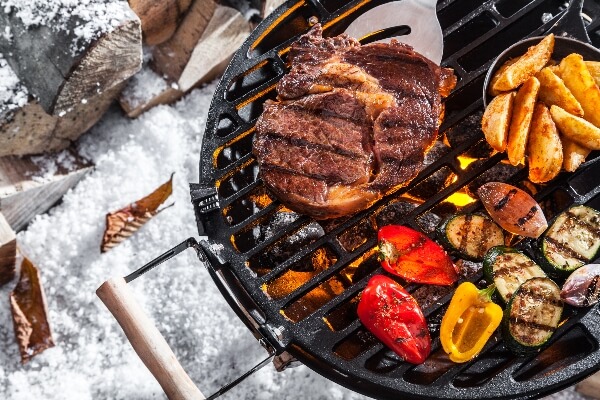 This year has been a tough time for seeing people. The many social distancing guidelines are important to keep people safe, but they also might have left you feeling disconnected. Luckily, during the summer getting together while being responsible wasn't so tough, just hang out with friends and family outside. With the weather turning cold, what are you to do?
Our answer is to keep hosting parties outside! It may be cold outside, but there are ways around the frost that keep people warm and happy while staying safe. This article will give you some ideas on how to host an outdoor winter party.
Stay Warm with a Bonfire
A crackling bonfire is a staple of summer camping and holidays in the living room. Bring the heat and the outdoor fun with a bonfire in your backyard. Make sure to check on your local laws on open fires. There is some kind of magic in a bonfire. Roasting marshmallows, poking the fire, or even looking at the flames can be entertainment enough when conversation dies down. Plus, a nice fire will give off enough light to see at night.
Light the Way
Speaking of light, make sure to consider your guests' need for lighting. If you will have a bonfire or an area outside set up for people to gather, make sure to have a lit path to your house. Even though people won't be staying inside, bathroom breaks and grabbing food or utensils will be much easier with a lit path. Consider using candles in mason jars, lanterns, or even a string of lights to illuminate their way.
Entertain Them!
Though a bonfire is nice to stare into, make sure to have other entertainment lined up for your guests. Scavenger hunts are fun daytime activities that get people moving, chatting, and having a good time! Have a fun theme for your guests to dress to - keep it simple and go with an "ugly sweater" theme! If you have a projector, an outdoor movie night is tons of fun.
Have a Food and Drink Zone
Your guests will inevitably get hungry and thirsty during the event. Take care of them by covering the food and drinks. Go for hot foods to keep them feeling warm even if the weather is cold. Make it easy for them to pick up food or drinks whenever they want by having it warming up in one spot. Soups are a good option, or you could go for catered food, so you can focus on having a good time with your friends and family. For drinks, consider warm apple cider, hot chocolate, coffee, mulled wine, or another seasonal drink.
Make Your Winter Outdoor Party a Success with Famous Dave's
Even though the weather is cold, you can still get together with the people who keep you sane! Stay safe with your outdoor party. Consider catered food like the tasty BBQ from Famous Dave's to save you the hassle of cooking for your party. We have many options respecting various dietary restrictions so all your guests can enjoy your event. Give us a call today to chat through your party goals!