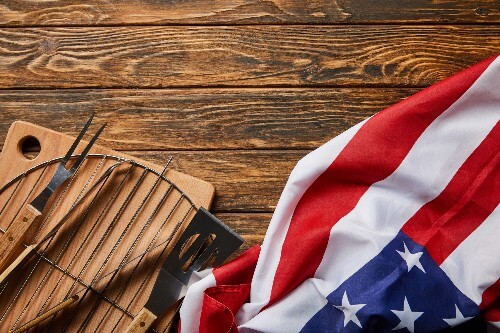 Recognizing people for their contribution is a vital part of Famous Dave's. We wouldn't be where we are today without the many honors, awards, and recognition we have received throughout the years. We also wouldn't be here as a nation if it were not for the many sacrifices of the veterans and members of the U.S. armed services. We showed our support during the special holiday that just passed. Keep reading to learn how Famous Dave's honored Veteran's Day with a special deal.
Our Veteran's Day Deal
This year we showed our appreciation for the U.S. armed forces by offering a meal on the house for service members. You may have seen the following deal at many Famous Dave's restaurants. As we posted on Facebook, here was our deal:
"Thank you veterans: FREE Two-Meat Lunch Combo (2 Meats + 1 Side + Corn Bread Muffin) just for you. We salute you. Monday, November 11 - All Day, Dine-In Only. Valid at participating restaurants. Must show proof of service to receive discount."
We are proud of the many people and organizations who shared our special with veterans. Blasting out our special made sure that we could deliver quality BBQ to as many of our honorable service members as we could. The website Military.com connects military service members and veterans as well as sharing information that would help them, including deals like ours. The financial website Money.com featured Famous Dave's in a roundup on Veteran's Day deals.
Other Recent Involvement with the Military
The recent Marine Corps Marathon took place in Virginia and Washington, D.C. on October 27, 2019. More than 30,000 runners took to the pavement in 2019 with runners from all 50 states and more than 50 countries. This year was the 44th Marine Corps Marathon.
Famous Dave's was a proud sponsor of the 44th Marine Corps Marathon. Below is a shot from the day of the event.
Famous Dave's Offers Many Deals and Quality BBQ Daily
This year is not the first time Famous Dave's participated in an event for veterans. We have proudly supported U.S. service members in years passed with a similar offering. If we missed you this year, we will have other events throughout the year. Make sure to check out our Specials Page of Limited Time Offers.
Famous Dave's offers customers quality meats cooked to perfection by seasoned barbeque experts. Our kitchen will add award-winning sauces and dry rubs to take your BBQ experience to the next level. Check out one of our locations near you today.