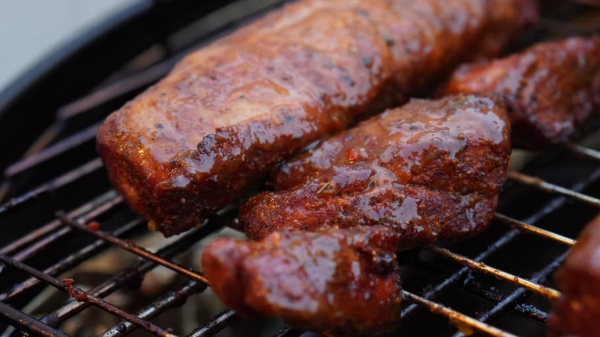 One of the reasons why Famous Dave's has become, well, famous, is because of the incredible BBQ sauce that we serve. While we cannot tell you all of our secrets about our award-winning BBQ sauce, we can share some recipes and tips for making your own BBQ sauce at home. So, continue reading to discover everything you need to know to create a great BBQ sauce that everyone will enjoy.
Tips on Making Your Very Own BBQ Sauce
If you want to make your own homemade BBQ sauce, we have got some tips to help you get started, so let's take a look:
Start with a Classic
Our first piece of advice is to go for one of the classics. The majority of sauces you find in stores today mimic the thick, sweet, ketchup-based style of sauce from Kansas City. However, you may prefer the vinegary Eastern Carolina sauce if you want something tangier. Starting off with classics like this is a good way for you to find out what style of BBQ sauce you enjoy the most.
Enjoy Playing Around with Different Spices and Ingredients
The great thing about BBQ sauce is that there are so many different variations and ways to enjoy this condiment. For example, you may want to add some hoisin to the mixture for a more Asian-inspired BBQ sauce. There are no rules. Have some fun by trying out different ingredients in your pantry and seeing the impact that they will have on the taste of your BBQ sauce.
Consider Adding Fruit
A sweet, thick sauce is typically the best option when it comes to chicken wings and ribs. Rather than just going for a pure tomato paste, why not add some fruit to the mixture for different textures and flavors? From blackberries to guava paste, there are lots of exciting options.
Switch up the Sweetener
Last but not least, varying the sweetener is a good place to start once you have got the basics nailed down. A classic choice is brown sugar. However, if you want more of a sweet-bitter, richer flavor, consider blackstrap molasses instead. From honey to maple syrup, there are many different ways to add some sweetness.
BBQ Sauce Recipes that You Will Love
Now that you have some great tips on how to make your very own BBQ sauce, we are going to leave you with some tasty recipes that do not disappoint. One of the best ones is this BBQ sauce recipe from Nicky's Kitchen Sanctuary. It only takes 10 minutes, making it an incredibly easy recipe, and we are sure that you will enjoy the incredible taste. Another BBQ sauce recipe to consider is this one from Gimme Some Oven. It takes a little bit longer (30 minutes), but we are sure that you will agree that it is worth it. Finally, we would recommend checking out this homemade BBQ sauce recipe from Add a Pinch. It is another recipe that is easy to make and delivers great results.
Take a Break from Home Cooking and Enjoy Famous Dave's Award-Winning Sauces in Person
We can all relate to trying something in the restaurant and then wanting to recreate it at home. Preparing and cooking sauces delivers a different experience for those who love it! When you are ready to set aside being an amaetur chef and let the pros take over, come in to enjoy Famous Dave's award winning sauces and savory BBQ in person. Come into Famous Dave's location nearest to you today.