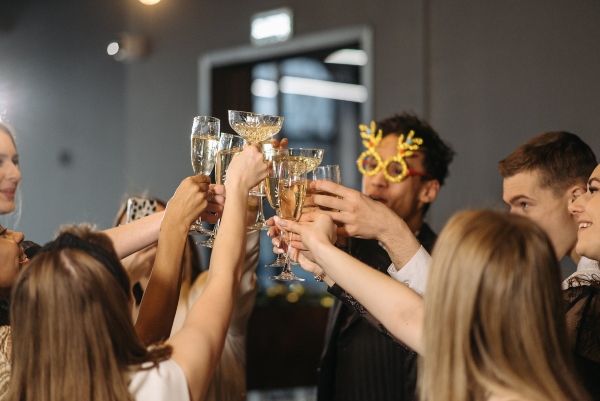 The holiday season is here and, with it, the work party season! And, after a year like 2021, remote working, Zoom calls, and lockdowns, it is time to show your employees how grateful your company is for their hard work.
Here at Famous Dave's, we know how important holiday parties are for the company's morale and employees' satisfaction. That is why we have put our experience and passion for the job into creating custom holiday catering packages that fit your company's needs. Learn what to expect below!
We Offer a Cost-Efficient Catering Solution for Any Company
Holiday parties exist to celebrate all of the hard work that went into making your business thrive during the year - but they can also be a burden on the company's budget! According to recent statistics, business owners spend around $75 per employee, which means that you might end up spending over $7,500 to celebrate with your 100-people team!
Here at Famous Dave's, we know how important it is to keep an eye on the budget. Whether you are planning a lunchtime or evening party, you can find the right catering solution for your needs and budget.
We Can Help You Save Time on Planning – So You Can Have Fun!
Time and labor can go into planning a holiday party - and your HR team might be working all year round to make sure that everything goes smoothly. However, you should also find the time to enjoy this magical time of the year and have fun with your colleagues. After all, what better occasion is there to network than a party?!
With Famous Dave's catering packages, you can count on high-quality food, custom preparation, experienced managers, and a team of hospitality professionals ready to exceed your expectations. So, you can sit back and enjoy the party!
We Only Use High-Quality Ingredients for Our Dishes
Recent statistics show that 90% of employees are not so keen on attending their workplace holiday party. How about enticing them with delicious food, local ingredients, and a team of chefs ready to create the most mouthwatering meal? For generations, the expert cooks at Famous Dave's have believed in the power of simplicity and originality - and we would never compromise on the quality of our ingredients!
We Cater to All of Your Guests' Needs
Diversity in the workplace makes for a winning company. Diversity at a holiday gathering makes for a great party! At Famous Dave's we know that each of your guests will have specific requirements - including taste preferences, allergies, calorie amount, and lifestyle choices. That is why we continue to develop our menu to cater to all of their needs and provide custom, made-to-order options to avoid disappointment or waste.
Thanks to our group party catering packages, you can be sure that all of your guests can enjoy delicious, freshly-prepared meals. Rest assured that our meals will fit everyone's dietary requirements and lifestyle choices - no matter whether they are vegan, vegetarian, gluten-free, or kosher!
We Keep Up With All the Latest Health and Safety Requirements
While most of the Covid-19 restrictions have been lifted, the pandemic is still looming over us all. So, it has never been so important to keep your employees safe throughout the party! At Famous Dave's we ensure that our hospitality professionals follow all the necessary health and safety measures needed to keep our guests and clients safe and entertained.
If you prefer to have a safer outdoor party, we can also help you plan for a stellar holiday BBQ this winter!
Choose Famous Dave's to Cater Your Company Holiday Party
It has been a long year and most folks are looking forward to the holiday season to unwind. Help your employees enjoy the holiday season with some good food and good times. Famous Dave's is here to make your holiday party a success by catering our signature BBQ selections. Give our team a call today to set a plan.