The #1 Family Restaurant Serving The Southeast Michigan Area
Famous Dave's is Southeast Michigan 's Favorite Family Restaurant!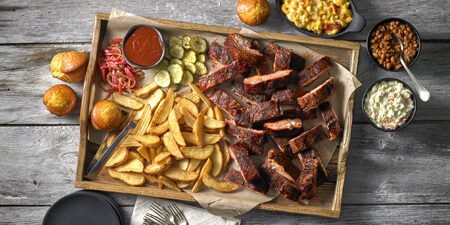 Are you looking for an award-winning dining experience?d You'll find it here at Famous Dave's, the restaurant and catering company with more awards than any other. Our high reputation comes not only from our shockingly good ribs, pulled pork sandwiches, burgers and more, but also from our friendly service and warm atmosphere.
From our restaurants themselves to our catered events to the stores in which we sell our products, you'll always feel welcome and cared for, as though you were in your mom's kitchen or your grandpa's backyard. That's how we feel when we cook, and it's how we want you to feel while you eat. So come on in and let us know what you'll have, then rest your bones and just enjoy the good life.
Download Our Full Dine-In Menu

---
The Family Restaurant You Won't Want to Leave!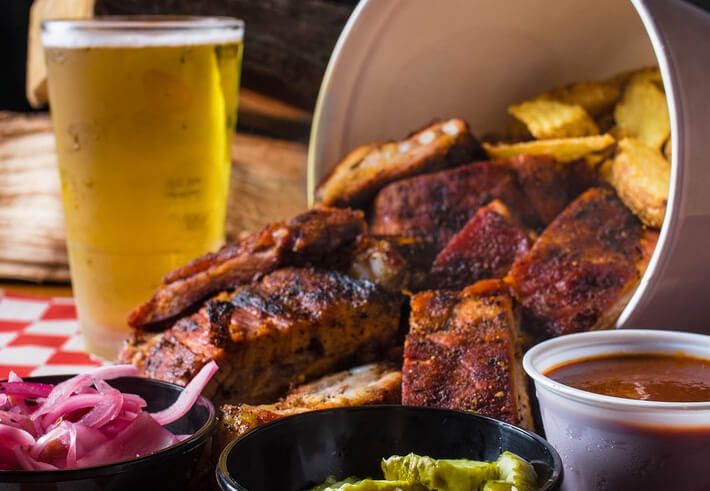 Given the widespread acclaim Famous Dave's has received and the staggering number of awards we've earned to date, you may be surprised to learn that we opened the doors on our first barbecue restaurant relatively recently, in 2003. Since then, we've flung doors wide on barbecue joint after barbecue joint in Michigan, Illinois and Ohio. We smoke hundreds of slabs a day at each eatery, and still can't seem to keep our customers satisfied. They just keep coming back for more ... again and again.
Partially that's due to our atmosphere, which is almost as much a part of our success as our amazing recipes. In addition to melting, perfectly crusted, slow-cooked and grilled creations, we also offer cozy atmospheres with family friendly accoutrements and amenities to please the older crowd as well. Whether you're coming for the environment or the food, you'll be delighted to sit and stay a while. Or all night, up to you! We offer:
Microbrews, American beers, wine and cocktails
Reservations and walk-in service
Catering to a huge array of events, from weddings to office parties to fundraisers
Tons of locations for easy dining
Bar open for 1 hour after the kitchen closes
AND the world's best barbecue
---
Don't Feel Like Dining in at Your Favorite Family Restaurant in the Southeast Michigan Area? Get Our Curbside!
Sometimes, though, you don't have time to sit down, or just want to be out and about. Why should that mean you have to miss out on the best barbecue in the world, though? Now it doesn't, because Famous Dave's is delighted to announce the launch of its food truck service in July 2015. Our fans were relieved to hear it, we'll tell you that much, since our mobile kitchen had been hotly anticipated for a long time. This 22-footer is ideally suited to an array of outdoor events, from festivals, concerts and corporate lunches to rustic weddings and grand retirement parties.
Once you experience Famous Dave's, you'll want it again and again. We promise.
---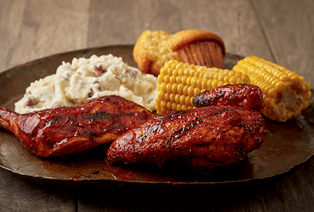 Dine-In
You're never too far from Detroit's best barbecue! Famous Dave's in Detroit has four great locations to satisfy your BBQ cravings. Our local barbecue restaurants feature craft beers, award-winning barbecue and an amazing dining experience in a fun and kid-friendly atmosphere.
---
Stop by our Family Restaurant near Southeast Michigan today to see what the deal is all about. Delicious BBQ food for the entire family!
Find a Great Family Restaurant Near You