Professional Catering Company In Farmington MI
Looking for Catering in Farmington? Famous Dave's Can Help!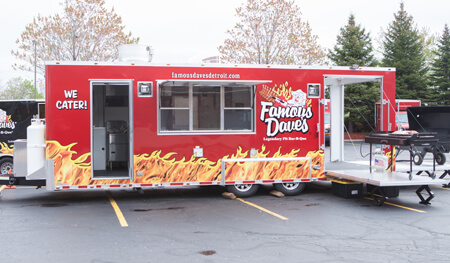 When you've got a special event to make, well ... special ... you need the help of an experienced and world-class restaurant to cater it for you. If you're looking for the right meal at the right time, Famous Dave's and this event just might qualify. If you know what we mean. Which we think you do.
We offer a huge selection of southern-inspired foods, from barbecue to all the fixin's you expect in Grandma's dining nook. Our award-winning ribs are a guaranteed crowd-pleaser, for instance, and pair perfectly with other meats such as roast chicken, pulled pork, brisket and burgers. Let's not forget the vegetarian options, such as Portobello and bean burgers, nor the epic array of sides: mac 'n cheese, baked and green beans, cornbread, potato salad and mashed potatoes, and more.
Download Our Catering Menu

Corporate Catering
Knitting together the perfect event can be a challenge. Work is still work, no matter how happy your employees are and how well you all get along. Motivating everyone to come together outside of normal hours or for special events gets a lot easier when there's a dope meal waiting for them. With our huge range of meat and side dish options, you shouldn't have any trouble bringing in the whole crowd, though. Then watch as the bonding begins over sticky fingers, cornbread crumbs and epic desserts. It will be an affair to remember. Except, you know, totally above board and PG. Because that's what we're all about here at Famous Dave's.
Cultivate Closeness - Barbecue is more than food; it's a communal experience! By breaking into a set of ribs or cutting up a roasted chicken together, you, your employees, and your clients have a unique opportunity to grow closer. There is no better way to solidify your business relationships.
Party Catering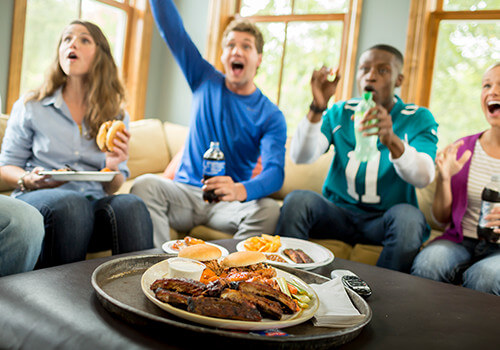 So you've come a party coming up, and you want everything to be pitch perfect. Whether you're celebrating a little one's birthday, sending an old timer into retirement or commemorating the fact that Great Grandma Jessie made it one more year (we all thought she would, didn't we?), you can feel comfortable that you're doing it in style when you have such a great array of barbecue options from which to choose. Don't forget the sides and desserts!
Birthday Parties - What better way to celebrate another year of life than by filling up on pulled pork and brisket? You can hold the party at Famous Dave's or have us cater it at any other site.
Graduation Catering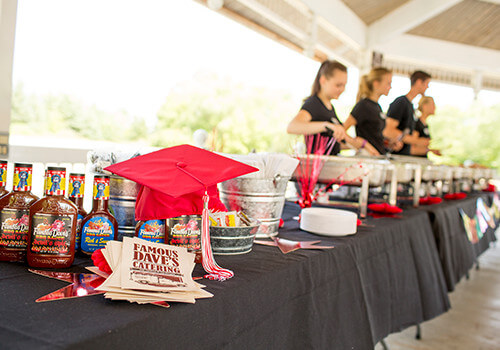 Making it all the way through high school, college or graduate school is a big deal, and deserves to be celebrated accordingly. Whether you're putting on a fete for a kiddo, a spouse or a nontraditional student who has just hit a major milestone, you can't do better than a finger-licking, down-home celebration. Why wait to plan your perfect barbecue meal? Give us a call today.
Service Selection - Famous Dave's offers flexible service options for your catering. Whether you want to pick the food up yourself, have us deliver it, or let us set up and serve the entire buffet, we are happy to do it. We can even serve your guests from our food truck!
Wedding Catering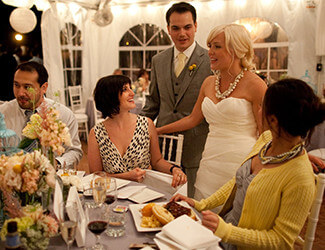 Your special day is all about you, and if you love barbecue, then the choice is pretty clear. Not that an incredible array of slow-cooked meats and delicious, old-fashioned sides is really a cross to bear for your guests. It's safe to say everyone will be stoked if you have us cater your event, and we're perfect for any country-themed or Western-style celebration to boot. (Ha! Boots. Get it?)
Barn Weddings - If you're seeking a country aesthetic for your wedding, a barn is a choice location for the ceremony and reception. Why not complement that venue with a traditional barbecue meal and scratch-made sides?
---
Famous Dave's for Any Occasion
Do you have an upcoming event that wasn't represented on this list? No worries at all ... we've got you covered. Just give us a call, explain what you need, look through our menu and report back to us. We'll help you pick the ideal dishes for your festivities, as well as the right level of service: pick up, drop off or full service. Once you've decided on everything, we'll give you a quote, and then we'll stick to it. We don't believe in hidden fees or day-of expenses, so you can take that quote to the bank.
---