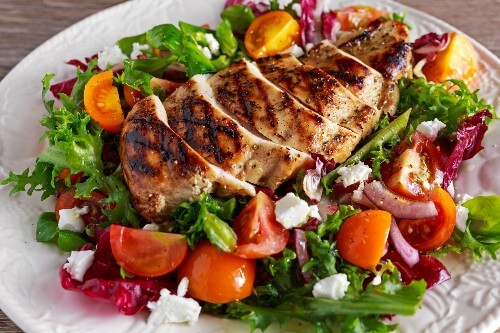 Have you made any nutrition-related New Year's resolutions? Are you counting calories or cutting carbs? There are many benefits of eating barbeque meals that go beyond the amazing flavors. We consider many nutritional needs when creating our line-up of meal options here at Famous Dave's. Keep reading to learn more about the options we offer to keep you in line with your goals while still enjoying the flavors you love.
Healthy BBQ is Low Calorie
We are notorious for smoking our meats, and you will be happy to learn that smoke will cost you zero calories! If you need to cut down on your calories even further, you can try the lunch or smaller portion of meats. As for sides, consider a salad or our green bean dishes.
Healthy BBQ is High in Protein
You won't need your protein shake if you are a regular at Famous Dave's. Our all-natural, signature smoked meats are high in protein - some portions of brisket, pulled pork, and turkey include over 50 grams of protein. You will even find high levels of protein in our delectable side dishes, including our staple side of Mac & Cheese. Plus, getting your protein from whole foods such as these meats is usually easier for your body to process.
Healthy BBQ is Low Carb
Are you trying to cut out extra carbs? You are in luck! Most of our meat entrees have less than 10 grams of carbs if you don't eat the bun. Don't forget our signature sauces and low-carb side dishes.
Healthy BBQ is Nutrient-Rich
The healthy options are about adding more than just protein. Our balanced meals can help you pack in the nutrients. Our Collard Greens are full of Vitamins A, C, and K as well as iron and fiber. Don't ignore our salads, including our Chicken Chopped Salad and Dave's Sassy Barbeque Salad.
Balancing Great Flavor with Healthy Options
We understand that it can be tough to find healthy food that doesn't taste like chalk. Famous Dave's brings you award-winning recipes, sauces, dry-rubs, and smoked meats. If you follow the tips above, you can keep your diet strong without losing the excellent BBQ flavor.
Check out one of Famous Dave's locations nearest to you to combine healthy options with great flavor.